Ok the Cressy is gunna need more power, anyone can tell that. So lets make a breif list of engine options.
1GGTE or 1GGZE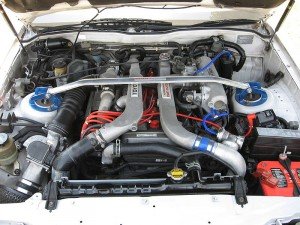 This has been done several times. Simply remove the old 1GEU SOHC anchor, and replace it with a Twincam, 12 Valve variant 1GGTE out of an early supra (Or 1GGZE out of an early Crown).
This engine swap is basically a bolt in fit and is a common swap into old cressida's. I'll have to swap the sump off the stocker onto the new engine. The twin turbos are junk too. a custom single turbo conversion would have to be the way to go. These engines are getting old now tho. Finding a good one that doesn't need a total rebuild might be easier said than done.
Pros: Simple converrsion for easy power increase
Cons: Old engine now. parts are getting harder to find these days.
7MGTE
I'd have to source an engine crossmember and mounts out of a MX73 to carry out this conversion but it'd be basically a bolt in fit. The old 7MGTE donk being 3 litre has heaps of torque and there are several examples out there making 500hp easily with relatively minor mods.
Pros: Basically bolt in, Heaps of Torque.
Cons: Old engine. These things blow head gaskets and will require better head studs etc to make reliable power.
1JZGTE or 2JZGTE
Now we're starting to get serious. 2.5 litre, 24 valves, 2 turbos what more could a fella need? I know 3.0 litres ie the 2JZGTE! There are VVTi and non VVTi versions of both of these engines. They're quite pricey tho. There's currently a 1JZGTE and w55 on TradeMe. It's ex Japan and the current bid is $2500 and it hasn't met reserve yet! As for a 2JZGTE how deep are your pockets???
That's a lil pricey for me at this stage considerin I'd still need intercooler etc ontop of that. I'm lookin down the thick end of 4-5 grand by the time I modify it a little. Dough!
1UZ
Toyota's all alloy V8 is a brilliant engine. This conversion is going to require me to fabricate engine mounts etc. I'm not a certified welder and I'm pretty sure the cert guy will insist they're done by someone suitibly qualified.
(Other than the engine mounts) Fabrication won't really be a problem. But I'm not really a "bent 8" kinda guy, and if my heart's not really into it then what's the point???
Pro's: Torque, n/a power!
Cons: Don't like bent 8's, Fabrication required, Will need aftermarket bellhousing.
2JZGE
What about the n/a version of Toyota's flagship donk? It still makes good power. Also bein n/a means no turbo lag.
I've just been lookin on TradeMe. There are a couple listed at around the $400 mark. Sweet, that's a lot of donk for the money.
However I'm still going to have to pay through the nose for a JZ series bellhousing. The R154 supra box is bloody huge and goin to require a lot of tunnel mods to fit so not really a goer.
The W series box will have to do. it's still capable of hangling 300 ish horses. The problem is JZ bellhousings for W5x box's are rarer than petrified rocking horse shit. So it's supply and demand. Aftermarket ones go for around $650 for just the bellhousing!
Aparently if I use the MX83 Cressida engine crossmember the JZX81 engine mounts fit! Huh, what can I say, you've gotta love Toyota's interchangable parts!!!!

Pro's: Similar power as 7MGTE but n/a, modern engine, Cheap (kind of)
Cons: sourcing a W5x belhousing for the JZ. Need a front sump off a 1JZGE (so does everyone else so $$$)
1GFE
Hardly a popular conversion but the 1GFE out of the IS300 Altezza in theory should blot straight in (much like the 1GGTE). I know it's down on power compared to some of the previous options, but they are ubber cheap. The late model ones have VVTi making 160hp. Interesting….
Pros: bolt in fit, ubber cheap, modern engine. can use cheaper 1G belhousing. Also if I'm luck ignorant WOF guy probably won't even notice the conversion.
Cons: not much more power than stocker. not popular to modify so not many aftermarket parts available.
Individual Throttle Bodies
I was always thinking that ITB's would be the way to go for either of the mentioned n/a engine options.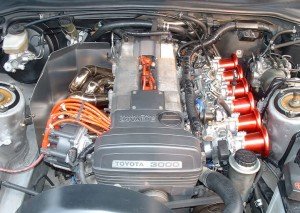 Now before you scream "just turbo it and be done with it" I've had experience fitting 4AGE 20v spec ITB's to an old 3TEU I built. It went surprisingly well for an old pushrod engine still running a basically stock efi computer. Hopefully I could get similar results doin this conversion to a 2JZGE or even the 1GFE.
I wonder how a 1GFE would go running ITB's ??? being a revvy lil 2.0l engine maybe this engine could be the black sheep of the modification scene???? But then again maybe not.
Conclusion:
1GGTE and 7MGTE are old technology. I've been there and done that with old toyota engines. This time round I'd like a bit more technology than was offered in 1980.
A 1JZGTE or 2JZGTE would be the dream setup. But I simply cant afford to sink 4 to 6 grand under the hood simple as that. So scrub them off the list also.
The n/a 2JZGE would be a good comprimise. If I can fabricate a manifold and fit some ITB's it'd be sick! Also the 2JZGE would make as much power as the 7MGTE conversion without all the hassels of an old engine and Turbo. If I can I'll try to track down a VVTi version of the 2JZ as there are more Arristo's about these days so they should be getting cheaper in theory.
The bargin basement 1GFE Altezza donk can't be ignored though.
In terms of simplicity and price it certainly meets those requirements. It still has VVTi and is a nice modern engine. As with the 2JZGE conversion ITB's would be the way to go. I realise that IS300 Altezza's are slow but they are a heavy car, I wonder how an Altezza would compare to my Cressy?
A 1GFE conversion with ITB's would certainly be different no doubt about that!!!
"MMMM, Much to ponder I have" (said in your best Yoda impression)